History
The story of The Syntheist Node began, like most sagas these days, once upon a time in a Facebook group. After two years of countless online discussions and offline rituals and meetings between 2012-2014 there was a general desire to take the virtual Syntheist movement to the next phase. The first natural step was the writing of a book to compile, concentrate and refine the thoughts and insights gained from the open online discussions. This complex philosophical work, called "Syntheism - Creating God in the Internet Age" - was written by Alexander Bard and Jan Söderqvist and became published in late 2014. The theoretical framework had thus been established. The next step was to create a permanent physical place founded on the same beliefs.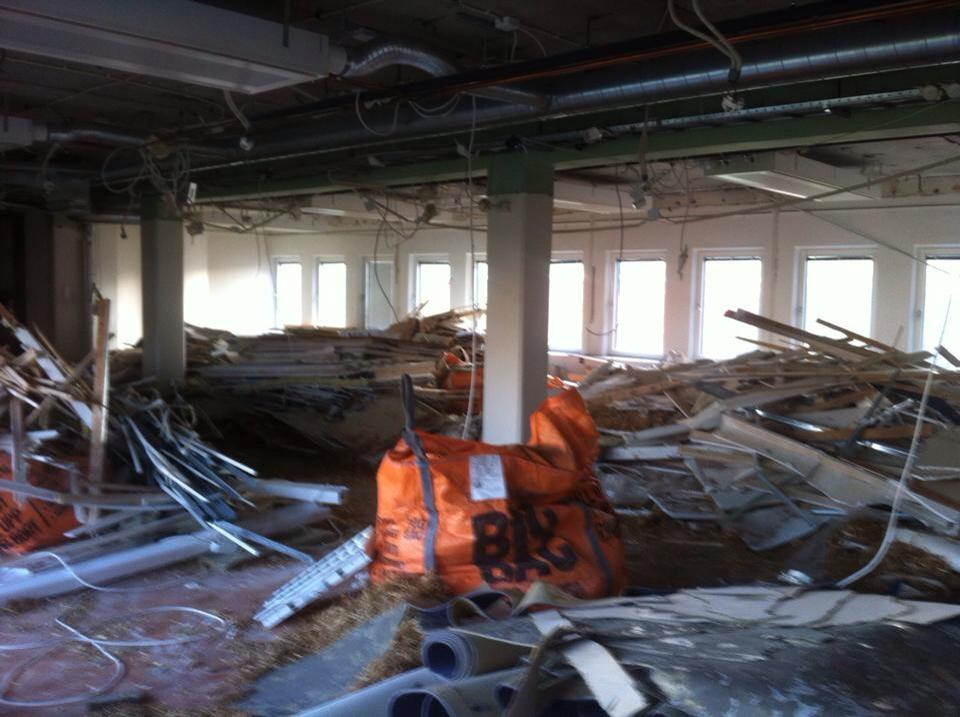 The embryo of our future living room after having teared down 9 office rooms worth of walls and roofing. Zero budget, plenty of sweat and willpower.
Hampus and Alexander, two friends and Syntheism founders, had in early 2014 decided to go for it and attempt to answer the following question:

"What if there was a place in Stockholm, like a secular church or a congregation home, where people could meet to build relationships and exchange ideas and knowledge with one another? A place where people could rediscover or reinvent themselves with a family they've chosen - in a community they were part of creating."

After more than a year of searching but not finding a location that would fit these particular needs at a sustainable cost the community's hope was running low. Many had given up on the idea of a Syntheist home away from home but the two friends led by Hampus remained determined to push on. That determination eventually led them to the building and the space we shared until January 2019, and the start of a community-creating demolition and rebuilding process. A lease contract was signed in the summer of 2015. The two friends quickly grew to a circle of four, who then became eight, and on it went. More active members like Fanny and Joannis joined in and walls started coming down as seen in the video below.
The Node was in Sickla for almost three years until we had to move as the building came down. If the fantastic community and experiment that is the Node was to be continued, we needed to find a new home for it. Our arrangement at Sickla Industriväg had been a once-in-a-lifetime sort of deal. We've had access to +600 m2 of space with almost no rent, which we've been free to modify as we wish, close to central Stockholm, with an extremely flexible and open-minded landlord. We always knew that our conditions would change radically the day we have to move. And that day is now slowly growing on the horizon.
Even if we were to be very lucky, renting 300-600 m2 close to central Stockholm (and with good access to public transportation) would cost between 500k to 1 million kr per year, depending on exact location and characteristics of the space. This is why we started pushing for monthly memberships late last year. We needed a solid amount of money on our bank account and a steady source of revenue when time came to sign a new contract. And we made good progress towards that goal! The picture below shows our old residence, demolished beautifully into the ground.
In a way, it's like the Node was growing up and soon needed to move away from its childhood home. Up until then, we were living a sort of sheltered life, free of the demands and pressures of running a space like this with full rent and responsibility. Even if we made it to 300 monthly members before we move, that only covered part of our rent in a new location, and then we still would have to have some money left over to pay for renovations, maintenance and to keep investing in equipment and materials for the development of the community. Running the Node had also only been possible because of the huge amount of unpaid work donated by a very small group of people. Work such as renovating the space, fixing things when they break and enabling the event rentals that provide the association with its largest source of income.
Adulthood comes with a lot of new responsibilities but ideally this is also balanced with possibilities and different kinds of freedoms. We wanted the Node to keep evolving into an even better space with even greater potential. We wanted to maintain and develop the synergies that have come from sharing a house with other creative projects like Stugan, Satans Demokrati and Nobelberget. We wanted to keep making Stockholm a more co-created, warmer, open city, burning ever brighter, year around. Ideally, our next space would be even more our own, and one we could stay at for much longer.
With all this in mind, we looked round for a new space.
The Node in Blivande, 2019
A safe heaven and growing up into sustainablility
In the aptly named harbour of Frihamnen, just a long stones throw from Gärdet, there was an old and charming building that is currently empty, eagerly awaiting a new tenant to fill up its 900 m2 of space (so almost 50% larger than the current Node)... It's surrounded by the industrial landscape of the harbour (open spaces and water!) and there are no residential neighbours within hundreds of meters. Yet, getting there is very easy as the well-connected number 1 bus line (which runs 24/7) stops nearby. The nearest subway station (Gärdet) is 15 mins walk away.
Eventually this place is also destined for demolition but that won't happen for at least another 10 years. Because of this, we are allowed to modify the building according to our needs – tear down walls, paint and rebuild. Everyone involved so far were sharing the same excitement, but from different perspectives and angles which is always a good sign.
All things considered, it was a pretty perfect place. However, there was one significant hurdle to overcome. This building was both too expensive and too large for the Node alone and is too complicated to run well on a completely volunteer basis. We also felt that it's too large a commitment for the Node association alone to take on at this point in time. In addition to this, the landlord was much more comfortable renting to a company than to a non-profit culture association. We estimated annual costs for rent and maintenance to be around 1,5 million SEK. In addition to that, running such a large building makes it necessary to start paying a bit for management and maintenance, though we don't expect anyone to have a regular "salary" for at least the first few years. Allowing for some yearly investments into new equipment and materials, and some compensation for work, we were looking at an annual cost of around 2 million SEK per year. We were really excited about the potential of this space however, so we started thinking about how we could get this house while still keeping the Node as a non-profit true to its purpose.
Hampus , Hugi, Cindy, Linnéa and Rodrigo Vargas started a company that would rents this house and is responsible for it. This is obviously quite a large undertaking. This company is run by us five, and not by the Node association, but there are obviously large overlaps both in people, culture and intention. The basic idea is to provide a corporate frame which can interface with the landlord and other bureaucracies in order to ensure that the Node can live on as a non-profit tenant inside of it. Similar to how we were living underneath the corporate umbrella of Nobelberget but with the difference that people from within the community are now running also the company. It's important to keep in mind that the Node association is a completely separate legal entity from the company and that it continue as it was before. This company became BLIVANDE.
Apart from the Node, two other things are part of the equation; Studio Tau, an arts and crafts workshop/makerspace with attached small studios for artists, and Studio Beta a small co-working space on the second floor. These spaces will have separate entrances, but are meant to work together in synergy with each other.
Organization
The community solidified and grew around the hard physical labor and the first regular workshops and events being held. Early 2016 would see the birth of the cultural association called Synteistiska kulturföreningen, which is the legal entity responsible for the Node and its daily operations. It's 2019 board members are:
Jape E Simianson(chair)

Christian Ubbesen (treasurer)

Maja Lund

Diana Monsberger

Jonas Mendes

Kim Gajraj

Joannis-Magnus Fotinos

Karolina Nordh

Damien Dando

Linnéa Appert
The organization's membership is divided up in two categories, active and passive members, with the definition of an active member being one that donates at least 100 kr per month towards the Node's continued existence. Passive members are those that pay the yearly membership fee of 100 kr, which is the minimum requirement for any recurring visitor that attends workshops and the like. Active members are entitled to certain perks such as always getting in for free or at a significant discount at all events organized by the association.

We currently have approximately 300 active members donating monthly and we need to reach 400 to be self sufficient and not living from our savings. These figures represent great news as it is an increase of almost 100 members to our previous location. We are a community that can grow and manage to pay a normal market-based rent. So please contribute to this social experiment, press the button underneath and let us create something lasting together.
Community members are invited to participate in the governance of the association through attending the annual general meeting which takes place before the end of March every year. Anyone is also welcome to participate at the Nodting events that takes place a couple of times per year and make their voices heard there. Beyond this it is of course also very possible (and encouraged!) to take initiatives and shoulder responsibility for what happens in the association by active participation, preferably at the Node itself but also on our online planning platform Loomio and join our Facebook group to get new announcements.
Future
The future is uncertain and exciting! We've been through an immense and challenging growth process, and with that we moved to our new home in partnership with Blivande which opens up an even bigger and exciting opportunity of collaboration and co-creation, with the amazing art maker space Studio Tau, the awesome co-working space Studio Beta and so many creative minds sharing the same building, we thrive to reach the sufficient amount of members to cover our monthly expenses and be part of organizing events that resonates with Noden ideals.